It seems like each year I tell myself I will be well prepared for deer season but I somehow find a way to procrastinate. I'm not one for making excuses but I did make a move this Summer from Michigan to Colorado and it takes a while to get settled in. But the fact still remains; The opener for archery season in Kansas is just two weeks away and I am behind the ball game!
As mentioned in a previous blog post titled "Kansas Whitetail Deer Scouting Trip – July 2015", I was able to pick up over 5,000 acres of private ground to hunt on this Fall. To be honest, acquiring the land was the easy part and now comes the meticulous planning and scouting to get a good buck on the ground this season.
The Real Work Begins
After a week long work-related road trip I was able to swing back to Kansas on my way home to Colorado to begin dissecting the area I will be hunting. Not all of the land I have access to is what I would call "prime habitat" but I would say about 70% is a mixture of agriculture, CRP and river bottoms.
I am hunting two separate landowner properties which are about 8 miles apart from each other in Western Kansas. Both farms have multiple parcels that are all within close proximity which allows me to have a good mix of terrain and area to cover. I almost prefer this because I can drive around to each property and glass from afar if I wanted to do a spot and stalk hunt.
Prior to putting boots on the ground I did many hours of research on google maps to get an idea of how I thought the deer were using the area and how they utilized the local terrain. This helps cut down on the time needed to physically scout the area and allows you to immediately zone in on areas much quicker.
Hanging Trail Cameras
A few weeks ago I purchased four trail cameras made by Covert Scouting Cameras and so far I am very happy with my purchase. I was amazed at how small they are and have heard a lot of great reviews. I decided to go with two MP-E6 infrared cameras and two MP-8 cameras with black flash. The MP-E6 camera is their lowest priced camera but still features a good 6 megapixel picture and in fared flash.  The MP-8 black flash cameras are the middle of the road and feature a camouflage pattern, black flash and an 8 megapixel picture quality. Check out their wide selection of scouting cameras at: www.covertscoutingcameras.com
I hung one camera in a crossing point in a dry river bottom, I hung two more in a funnel area next to a low lying area with lots of cover, and the last camera was positioned over a water tank. While hanging the cameras I did scare out a few does but did not see any bucks on the hoof.
Also, at each camera site I utilized Big Tine attractants which included mineral mixes, salt blocks and shelled corn. This will bring in the deer and will allow me to more quickly inventory the area for bucks I want to target this Fall. Visit www.bigtine.com for more information on their products!
Setting My Sights For 140"
I hate to admit it but the biggest buck I shot in Michigan was 115" which isn't all that bad considering the majority of the state follows "If its' brown it's down" rule. Last year was my first season hunting in Kansas and from what I can tell, 140" isn't out of the question. There are very few hunters, vast amounts of land, abundant food and good cover for whitetails to grow old! I know I am in a good area because this 180" buck was found dead on the farmers property a few years ago. I was happy to pose for a quick picture!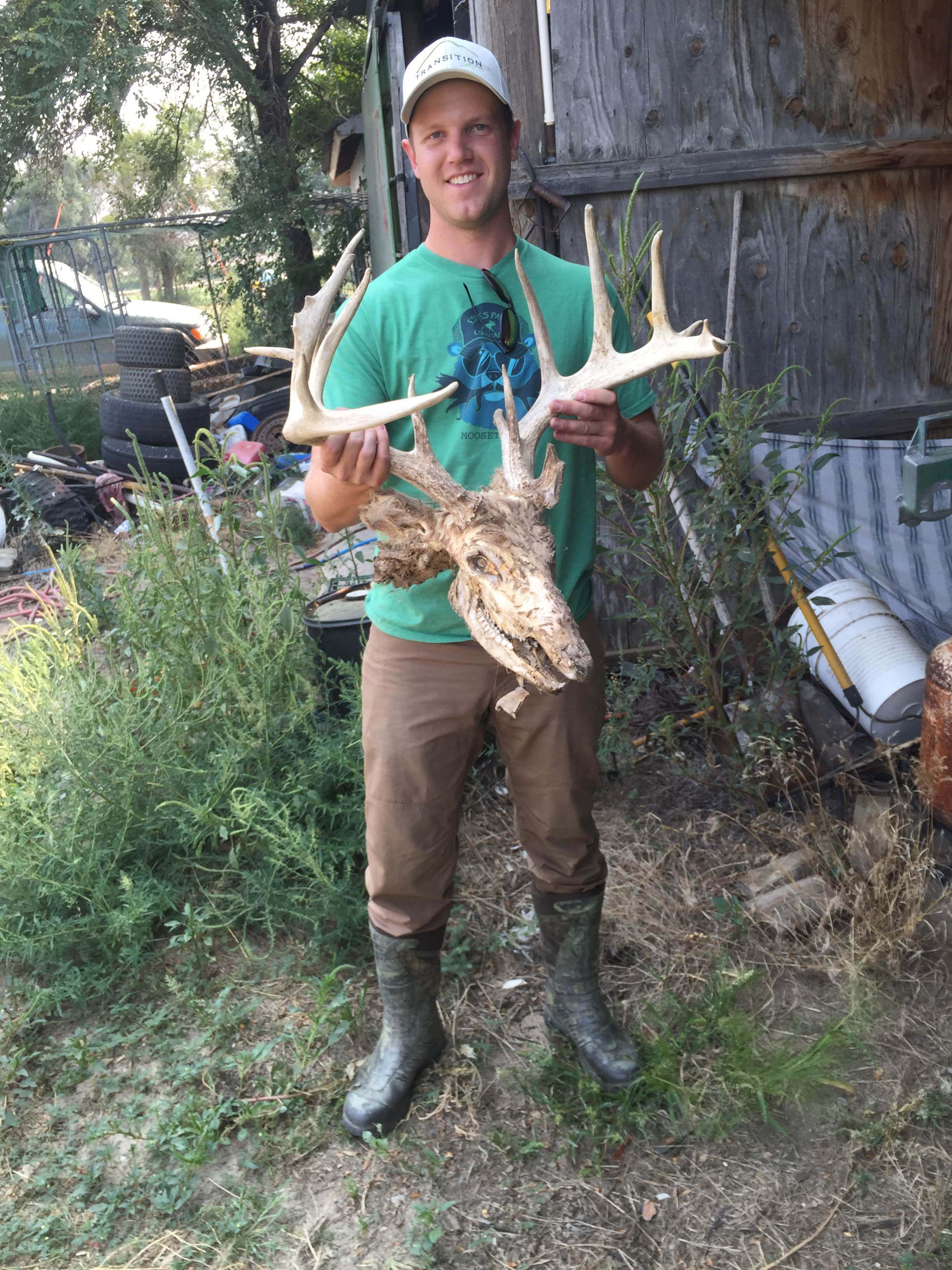 Next weekend cannot come soon enough and I am anxiously waiting to get back to the farms and check my trail cameras! If I end up getting a good buck or two I will begin formulating a more detailed plan of attack and maybe even hang a few stands and brush in a few ground blinds. If I come up empty handed I will revise my plan of attack and tweak my cameras to different locations. I love deer hunting!
-Adam
Subscribe to Transition Wild
Subscribe to our newsletter and receive The Colorado Beginner Elk Hunting Guide for FREE!