By Adam Parr
With a box of brand new elk calls just sitting in my garage, I decided this past Spring that I had better start practicing my elk calling in preparation for the 2016 Colorado archery elk hunting season. Let's face it, elk are tough animals to kill, especially with a bow.
Colorado is one of the most heavily pressured states in the U.S and as a first-time elk hunter with an over the counter (OTC) tag, I knew I had better get good at cow calling before the season arrived. In the world of elk hunting, you have to be able to talk the talk before you can walk the walk so I dove head first into full-on research and testing mode with the end goal of mastering elk vocalizations.
I spent the entire month of May and early Summer scouring the web and soaking up elk hunting information like a sponge. I read articles, listened to numerous podcasts (my favorite being the Jay Scott Outdoors Podcast), and watched every video I could find on the Internet in search of elk calling tactics, tips, and product reviews. Through this research, I realized that a beginner elk hunter like myself would be most effective if an elk call had the following characteristics:
User-Friendly Design

Realistic Sounding Vocals

Easy To Control Tones

     
Diaphragm calls, from what I had absorbed from watching videos, sound realistic once you learn how to use them but they are certainly not a beginners call. Traditional reed-style cow calls are easy to use but often lack control with various tone vocalizations and volume. I personally could only manage to squeak out a note from either one that somewhat resembled the sound of a dying rabbit gasping for its last breath. I'm serious! As a newbie elk hunter, I wanted a call that was best of all worlds; a trifecta!
As with most things in life, there are tradeoffs and sacrifices to be made that one must consider before making a decision, and elk calls are no different. Some calls are easy to use but lack sound quality and control. On the other hand, some elk calls sound realistic but often take months of practice to master. With the Elk Reel from Reel Game Calls, there are literally no tradeoffs, at least for me.
User Friendly
I'll be the first to admit that I'm not the most experienced guy when it comes to elk calls and elk hunting in general but this was the very reason I was drawn to the Elk Reel in the first place. No questions asked, I've found they are extremely simple for beginners to use, even if you have zero prior elk calling experience. As soon as I picked up the call for the first time, I was able to make realistic sounding cow calls within a matter of minutes and I'm sure most other users have experienced similar results.
It's So Real, It's Reel!
One thing I've heard a number of elk calling "experts" talk about is the ability to produce a nasally sound, which is hard to achieve with many calls on the market today. Elk Reel does it beautifully. In addition to it's patented design, this call is available in Oak, Maple, or Ziricote wood. I personally use both the Ziricote and the Oak to create varied pitches and tones by switching back and forth between the two calls, which allows me to mimic a small herd of cows to create a more realistic calling setup. Bottom line, the Elk Reel is the real deal!
Control Is Everything
This call requires very little air movement to control tone variations and all you have to do is change the pressure on the spring with the grip of your fingers. One thing that I really like is the ability to control volume at a wide variety of audible levels. With other calls I have tried, it is very difficult to achieve light contact mews to resemble an elk that is further away to draw the elk past a setup. Having control is key, especially when you are trying to call in a wary bull while hunting solo.
First Year Success
Fast forward to September 9th and I'm set up underneath a spruce tree overlooking a grass meadow where I missed an opportunity at a bull a few days prior. As the sun starts to set on the horizon, I put together a two-minute cow calling sequence with hopes of reeling an elk into my setup. With 20 minutes of light left in the day, two cows emerge from the aspens above and walk right past me as I ready myself for a shot. Just as I am about to draw, I hear tree branches snap to my right and a majestic herd bull appears in the meadow at a mere 50-yards away. He too followed the same path as the cows and on the final evening of my week-long hunt, I arrowed a mature 6×7 bull on public land, in an OTC unit where the hunting pressure is high and the animals are elusive.
Although I'll never know with 100% certainty that the cows came into my calls, it's hard to deny the fact that they literally walked right past the tree I was under at only 3-yards. I almost could have reached out and touched them they were so close! Luckily, I held my composure long enough to make a good shot on the bull and he fell just out of sight in a small draw.
Whether you are a veteran of the elk woods or brand new to elk hunting altogether, do yourself a favor and pick up an Elk Reel, you will be glad you did. To find out more information and to purchase their made-in-the-USA, ultra premium game calls, be sure to visit: www.reelgamecalls.com.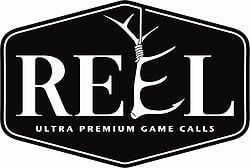 Subscribe to Blog via Email
Subscribe to Transition Wild
Subscribe to our newsletter and receive The Colorado Beginner Elk Hunting Guide for FREE!