Planning an out of state deer hunting trip can be overwhelming, especially for someone who hasn't been down that road before. Although many states deer seasons don't open until September and October, the time to plan a trip for Fall 2017 is now. Joe Wilson illustrates that anyone (even a clueless dummy like me) can plan a hunting trip across state lines by providing us with helpful information in regards to budgeting, lodging, and applications for tags. Enjoy! – AP 
By Joe Wilson
Just to be clear, I love hunting my home state of Michigan. It's tradition and will always hold a special place in my heart. But it sucks sometimes. While there is great habitat and deer numbers, there are also about 25 million hunters here (or so it seems) and just as the bowhunting is getting good, gun season comes in and turns the deer herd into schizophrenic homebodies who you swear wear invisibility cloaks.  Rather than whine about this year after year, I highly recommend taking an out of state hunting trip. These trips may seem like a dream that requires extensive knowledge and superior skills but they do not, I am evidence of that. The other thing they do not require is a small fortune. For three years I have traveled from my home state of Michigan to hunt both Ohio and Kansas. These are trips that all gave me legitimate chances at mature bucks and can be done by anyone with a little will power to save the money and a couple hours to plan.
Due to the fact that no one wants to read the novel I have prepared on this subject (unless of course, you are suffering from insomnia), I have split it into two parts. Here in part 1, I will describe to you how much my trips costs, how to find the money for the trips, how to find lodging, and how to apply for tags. In Part 2, I will discuss finding land to hunt, strategies to find the deer once you get there, and one subject some forget about; how to transport your deer home without getting a hefty fine.
Total Cost
Both trips were split two ways as I had a hunting partner. The more buddies you go with, the less you will pay for gas, lodging, and even food so start recruiting. Gas was estimated at $2.40 per gallon. Food mostly consisted of meals made in the kitchen with a couple dinners at restaurants.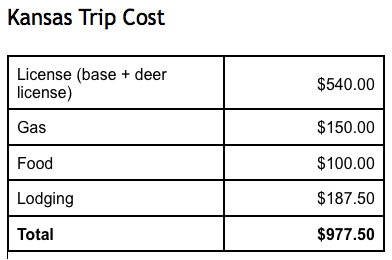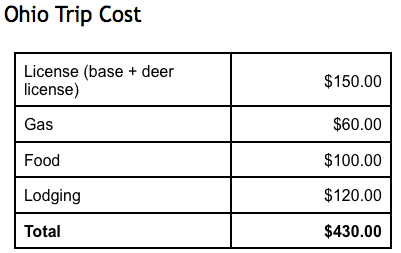 Finding the Cash
Most hunters I know hear of my trips and say, "I wish I could take an out-of-state trip but I just don't have the time or money." What they are really saying is, "I would like to take an out-of-state trip but I have other things in my life that are more important. Also, I make dumb statements a lot and I probably voted for Hillary." Okay, so the last part might not be true. The cost of a trip to a state like Ohio should be simple. $430 comes out to saving just over $8 a week. The Kansas trip was a bit more and equates to $82/month or $19/week. That seems like a lot? Do me a favor, keep track of your finances for one month. Put everything into a log and summarize it by category. Now take a minute to call out any expenses that are a want, not a need. Do you really need satellite TV? How many times did you go out to eat when you could have eaten at home? How many coffees from Starbucks did you get? What about that new truck payment, could you have gotten by with a used one? I guarantee you will find the money, it just depends on how bad you want a ticket to deer paradise. As for time? If you really want to go you will find the time. Even a long weekend is better than nothing.
How to Find Lodging
We stayed at a cabin that went for $375 per week. It included a small kitchen (which saved us money on food) and full bathroom with shower. To find it, I simply went to google, put in "Cabin rental (secret hot spot), Kansas" and saw what came up. Later on I even found a ranch that rented out cabins cheaper than what we found initially. Now if you think I am a princess for wanting to stay comfortable, you are probably right. The good news is you can save even more money by not doing so and camping at a state park which will usually have public land close by. If all else fails, find a cheap hotel room. Sure, it will be more expensive but you won't break the bank.
Applications
Here is where it gets to be a bit tricky. Certain states require you to put in an application in order to draw a whitetail tag.  In some states (Iowa) you need a few years' worth of preference points in order to draw certain areas. You can find the draw statistics (your chance of drawing) at the sites below. Below I have put together a quick rundown of popular Midwestern states and how to obtain a tag:
Ohio – Over the counter. Price: $150. Archery season: Late September – Early February. For more information go to http://wildlife.ohiodnr.gov/huntingandtrappingregulations
Indiana – Over the counter. Price: $150. Archery season: October 1 – January 1. For more information go to http://www.in.gov/dnr/fishwild/2344.htm.
Wisconsin – Over the counter. Price: $160. Archery season: early September – early January. For more information go to http://dnr.wi.gov/topic/hunt/deer.html
Illinois – By application (application period is in June) but tag is nearly guaranteed. Price: $467.75 Season: October 1 – early January (closed in certain counties during firearm season). For more information go to https://www.dnr.illinois.gov/hunting/Pages/DeerHunting.aspx
Kansas – By application (application period is in April). Price: $540. State is split into 18 units. When applying you will choose the unit you are applying for PLUS one additional unit that touches your unit (Basically you get to hunt two units but they have to touch each other). NOTE: Kansas is getting more competitive each year. I suspect that soon some units may require a preference point to draw the tag. For more information go to http://ksoutdoors.com/Hunting/Applications-and-Fees/Deer
Iowa –By application (application period is in May) Price: $549 + (depending on the unit) preference points ($52 per point). Season: October 1 – early January with a break in December during the Iowa Firearm Season. State is split into 10 units. You get to hunt one unit. For more information go to http://www.iowadnr.gov/Hunting/Nonresident-Hunting.
There you have it. Sit down with a buddy or two and hammer out details on which state you want to get a tag from, fill out your application (if need be), figure out your finances, find your lodging and you are well on your way. In part 2 we will discuss the more fun parts of process; finding land to hunt and then finding the deer.
Subscribe to Blog via Email
Subscribe to Transition Wild
Subscribe to our newsletter and receive The Colorado Beginner Elk Hunting Guide for FREE!