Growing up as an avid reader of Outdoor Life and Field & Stream, I was always fascinated with the map illustrations they put together of tree stand set ups, deer drives and various other scenarios to bag a trophy buck. These illustrative maps usually show tree stand placements, deer travel routes, bedding areas, feeding areas, hunter entry/exit routes… you get the picture, right? My goal is to show the same thing but in an area where bedding and feeding areas might not be as well defined such as the open plains of Western Kansas. My previous hunting ground in Michigan was an abundance of woods and crop fields; Western Kanas is neither. This years hunting scenario is a bit different considering prairie grass is the norm and wood lots and corn are scarce.
Unfortunately I was not able to hunt on the opening day of Kansas archery season but I am able to hunt this weekend. Kansas archery season opened up on Monday, September 14th and I have been chomping at the bit to get into one of my tree stands for Saturday evening! Fortunately, I have been able to spend three weekends on the property scouting, checking trail cameras and hanging tree stands which is not an easy task when you live 5 hours away. Am I 100% prepared?? … No, but I do have a pretty good handle on the situation and have confidence that it will be an exciting season.
Strategy fo September 14 – October 15
My early season strategy while the weather is hot will be focused around water and how the deer access that water. See the below illustration for an overview map of what this scenario looks like on the piece of property I'm hunting.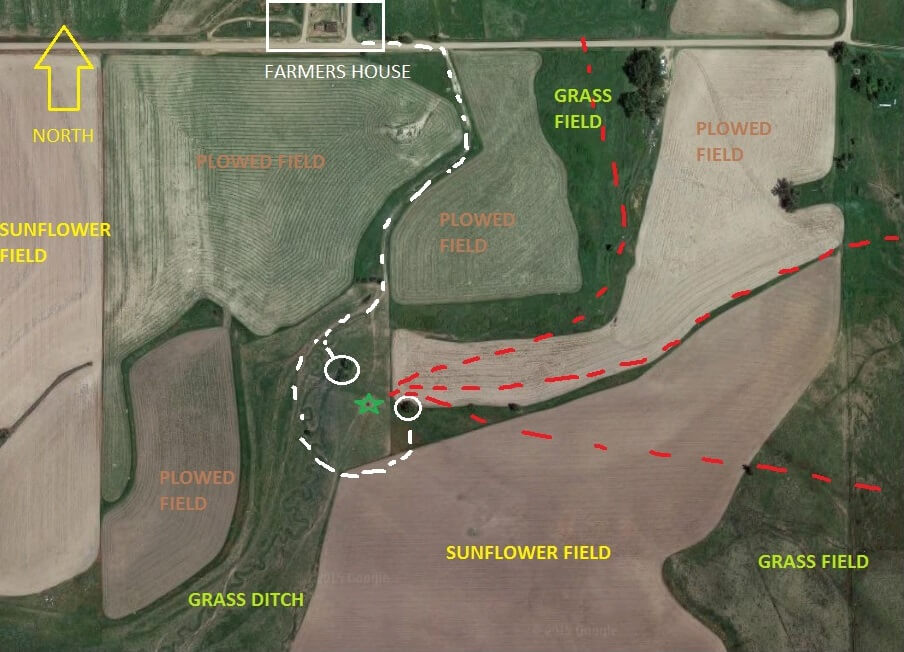 My tree stands locations on the map are circled in white and are positioned approximately 50 yards from the water tank represented by a green star. One stand is located Northwest of the tank and the other being pretty much directly East and as you can see from the aerial view, these are the closest trees to the water. The red trails are what I believe to be general deer access routes to this water and the white trails are my entry / exit routes to the stands. I will sit in the NW stand for Southernly wind directions and the East stand will be used for Northernly wind directions. Another great reason why a SW is an ideal wind for me is because the farmers house is directly South so I know deer won't be coming from directly behind me unless they are pretty close.

Looking at the weather report for Saturday, September 19th,  the wind direction is saying South East for the area I hunt, which is pretty much ideal for the NW stand. Although this is an ideal wind for not getting busted by deer, I don't believe that this is an ideal wind for mature buck movement. The reason being is that its not an ideal wind direction for him to move and feel safe if he's traveling from the direction I have indicated on the map above. Check out this article and video from Wired To Hunt in regards to playing the wind in your favor as well as yours. An ideal wind for both myself and the deer would be a South West wind because at that direction its in his favor as well as mine.
I haven't been able to check my cameras in a few weeks but the last time I pulled the card on my trail camera situated over the water tank, the main frame 12 point came out during daylight with a SouthWest wind. We shall see if my theory proves true this coming weekend. Below are a few pictures of the buck I'm after. The dates on my camera are wrong; they should be 09/02/15 instead of 10/02/15. Either way, you get the point why I'm hunting this deer!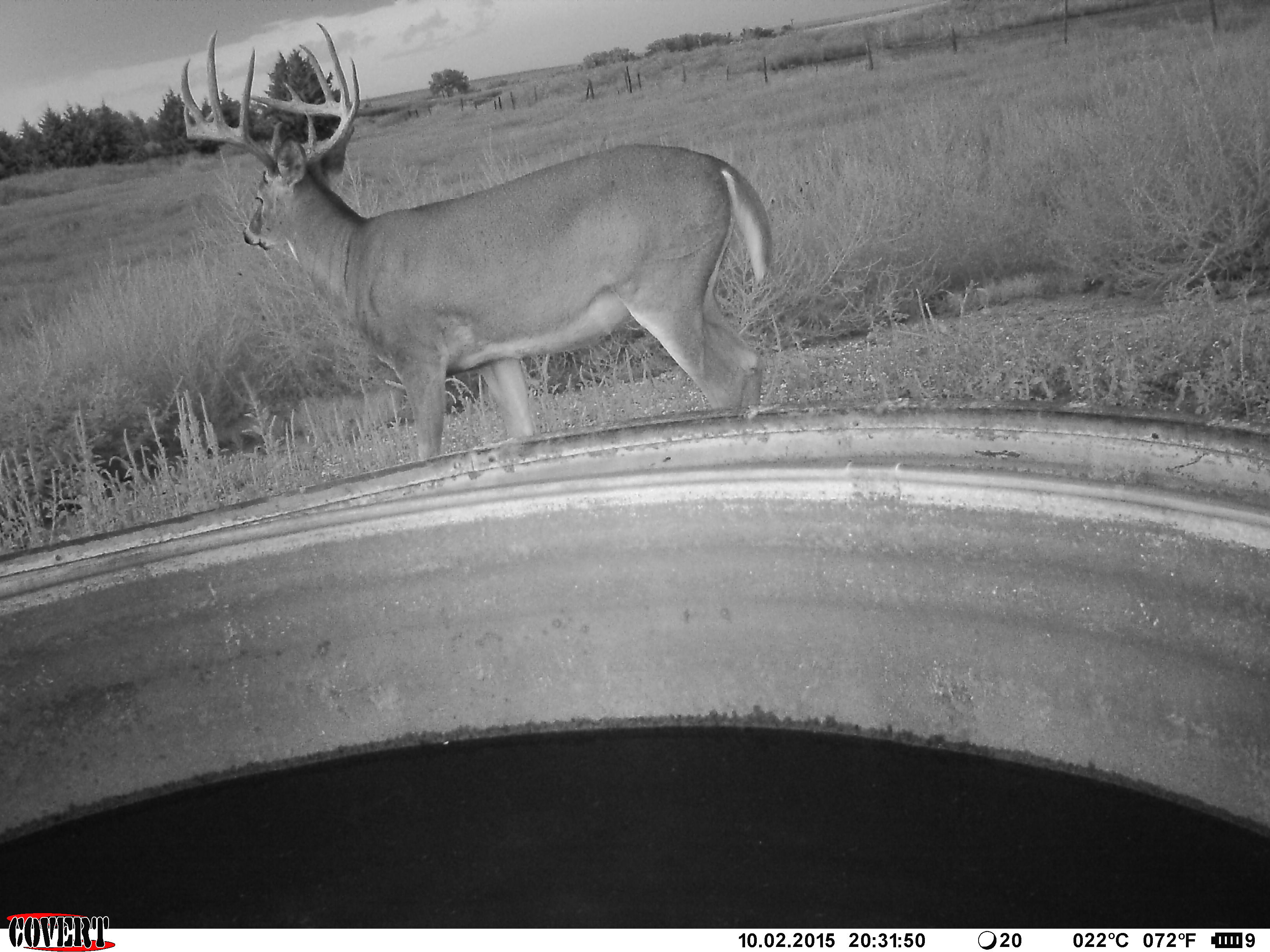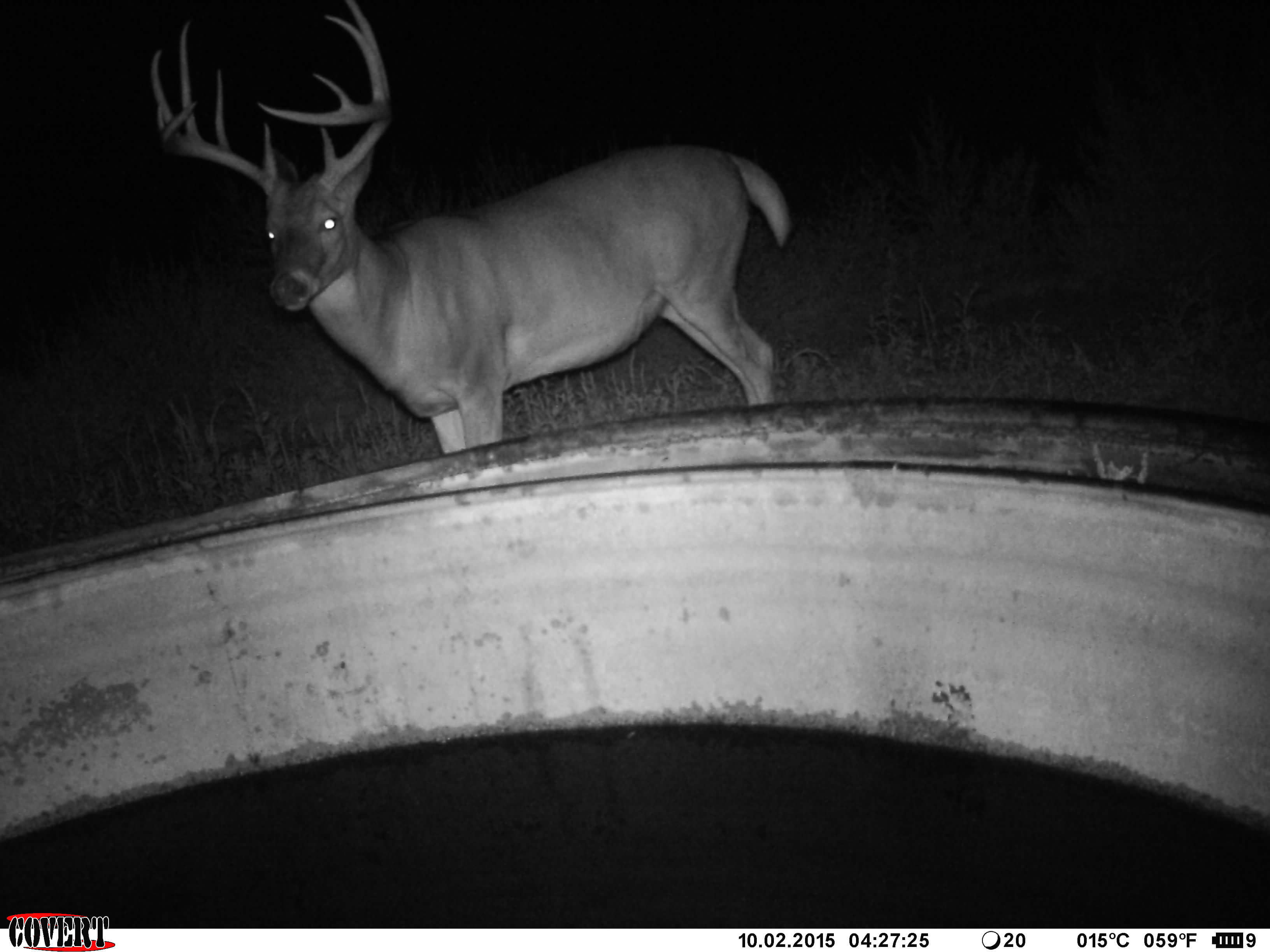 Things I'm Not Doing During Early Season
Wind Direction – The wind will always be my number one priority and I will not hunt these stands with the incorrect wind no matter what.

Morning Hunts – Morning hunts are too risky because you can't see whats in the fields and the deer especially can see a long ways off because of the lack of cover and open ground.

Over Hunting Stands – This one won't be too hard to do since I am pretty much limited to hunting weekends but I will not hunt the same locations or stands too often.

More Hunting, Less Scouting – During early season a lot of my focus will still be put towards glassing and scouting the 7,000 acres of land I have access to. Less sometimes means more.

Spot and Stalk – Unless the scenario is absolutely perfect, I will hold off on my spot and stalking until we get to the end of October. The last thing I want to do is blow deer out of the area prior to the rut. Although, I do have a decoy coming in the mail from Heads Up Decoy for spot and stalk hunting! More to come on that in a future article.
Don't Get Too Aggressive Early On
Its a long season so I want to make sure that early season is focused around minimal pressure and hunting smart. I have a plan in place to hunt the water source while its hot with the right wind in my favor and hopefully I'll cross paths with that 12 point over the next few weekends. If I am able to locate a different buck or a better scenario, I have my Lone Wolf tree stand and Muddy sticks if I wish to hang another stand as a quick attack. I'll let you know how I do for my opening hunt in Kanas for the 2015 season. Stay tuned!
-Adam
Subscribe to Transition Wild
Subscribe to our newsletter and receive The Colorado Beginner Elk Hunting Guide for FREE!