Ever since my first whitetail hunt in Kansas last Fall, I have been hooked on the art of pursuing elusive whitetails via spot and stalk hunting. I was born and raised in Michigan where the normal style of hunting is from an elevated tree stand. The tracts of land are usually small, 10-100 acres in size and the terrain is pretty much flat, which means spot and stalk hunting is non-existent.
Hunting in the wide open prairie of western and central Kansas has allowed me to get more aggressive in my hunting tactics. Now don't get me wrong, I still partake in hunting from tree stands or a stationary ground position but now I have other options to close the deal.
I have been looking into getting a decoy this year but I wanted something that suited a more mobile style of hunting. Dragging a 3-D target into the field or a large 2-D full-size animal was not my cup of tea so I set out to find something that would match my taste. The qualifications pertaining to this decoy meant it had be compact, light weight and quickly deployable during a hunting scenario. After doing some research I came across Heads Up Decoy and fell in love! I immediately reached out to the owner, Garrett Roe and had to pick his brain on a number of topics about hunting and his company.
Garrett is an avid, accomplished bowhunter and a devoted family man with a wife and kids. I can honestly say he is truly a genuine guy and it was a pleasure learning more about him and his company, Heads Up Decoy.
If you are a complete beginner to spot and stalk hunting as well as using a decoy… look no further! Here is my interview with Garrett Roe, President and Owner of Heads Up Decoy.
Let's Talk Hunting Strategies
When is the best time of the season to use a heads up decoy for whitetails? Have you found success early or is it better to wait until the rut?
The majority of my success has been when the deer are rutting in November but I have also had good encounters in the latter part of October. Whitetails tend to be most vulnerable during the rut and that has been the best time to use the decoy. As you know, during the month of November whitetail bucks only have one thing on their mind. If he sees another buck moving in on his doe, he is going to do everything he can to run him out of the area and that means bringing him in for a close shot.
Have you used the decoy in a non-spot and stalk hunting scenario from a fixed position tree stand or from a ground setup?
Yes. During the October lull, this has been an effective time period to use a HUD from a tree stand or ground blind. I have had the most success in this particular scenario using both the buck and a doe decoy. Deploying this stationary setup during the calm hours of the day is a great alternative to spot and stalk hunting when the woods are silent.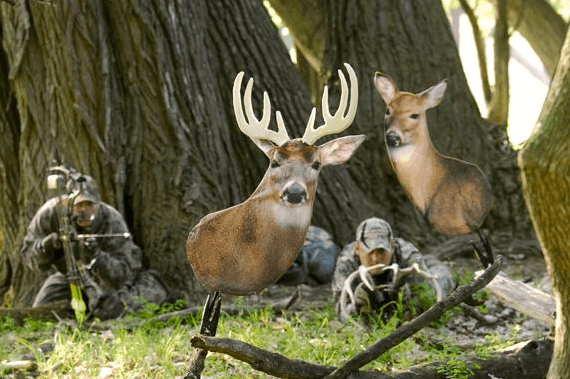 What are the ideal conditions for a spot and stalk hunt using a HUD?
Ideal weather conditions are a 10-15 mph wind so that it will cover your footsteps and noise as you move in closer for a shot. If it's too windy, such as 30 mph winds, it can be tough to use the decoy because it will be blowing all around.
The best scenario for spot and stalk is when a doe is locked down with a buck. He is likely preoccupied with her and if you can catch them bedded down, it can be a perfect opportunity to move in. Use the terrain and wind direction to your advantage and that's you have your best shot at a successful encounter. A cruising lone buck would be second best scenario and a doe decoy can work really well for that situation too.
I really like how you can bend his ears back as if he is about ready to fight. Have you had success doing this in the rut?
Oh yeah, tucking his ears back works great! This really mimics a posturing, pissed off buck and adds a realistic touch to bring that buck in on a string.
Lets say you spot a buck across a field 400 yards away. When pursuing a stalk situation, do you have the decoy in front of you the whole time or do you get to a certain yardage and then show the decoy?
Great question! I prefer to stalk within 100 yards to a location with cover, meaning contoured terrain, tall grass, brush, etc. If you have cover, I like to get as close as I can to 70-80 yards then set up the decoy. If cover is unavailable, you might have to show it 200 yards away and move in after him from a distance while hiding behind the decoy.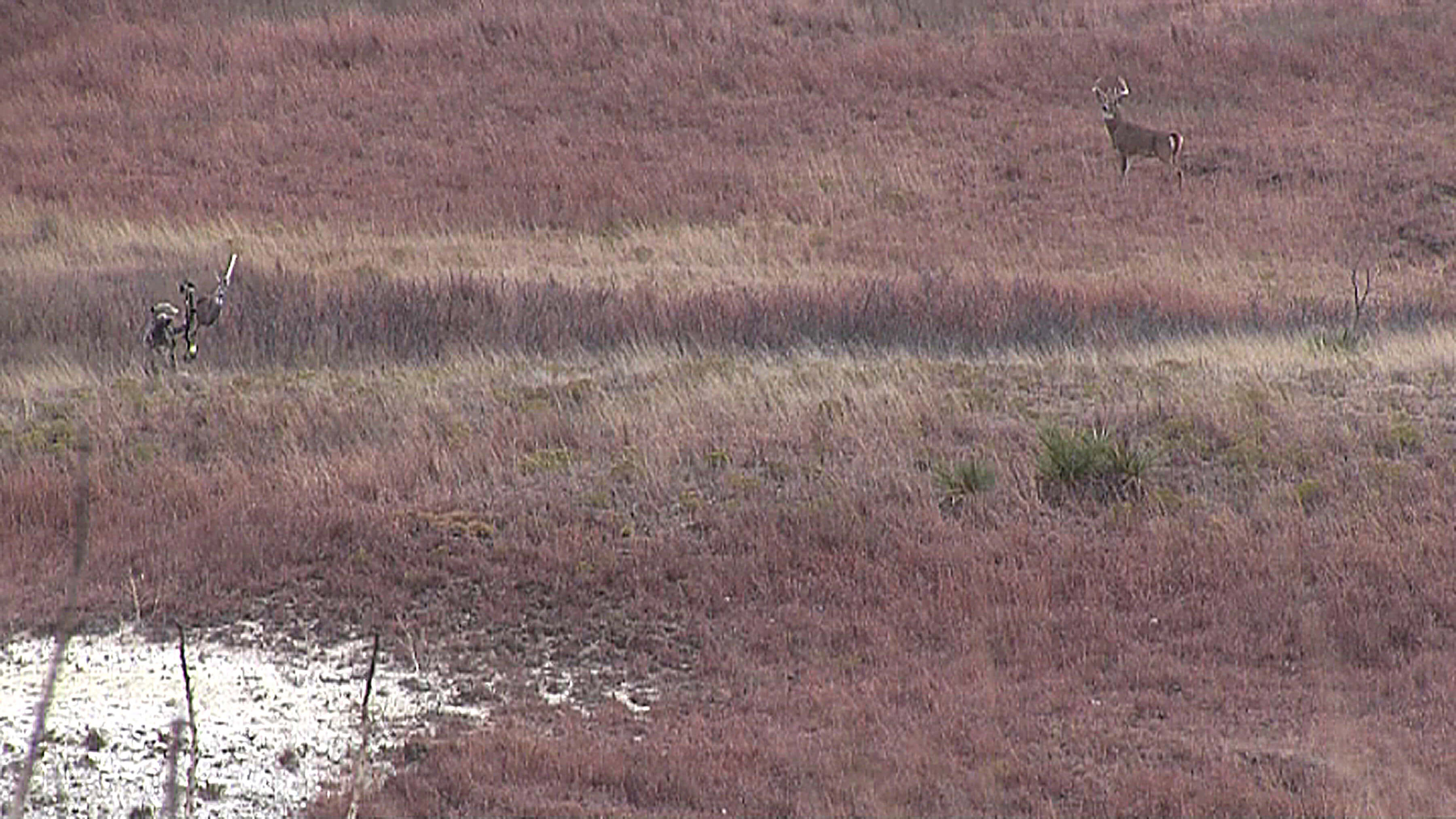 Every scenario is different but its always best to get within 100 yards to let him know you are there. I don't like to get too tight on them (closer than 60 yards) because it may catch them off guard and potentially alarm them. Once I am in position, I let out a few grunts to get his attention. The moment he is commits, I don't call again and get ready for the shot. Once the buck makes eye contact with the decoy, they don't really look at it again. They come in sideways, posturing up and are too focused on making themselves look big for the fight, allotting me extra movement to draw my bow.
When it comes down to taking the shot, is the decoy clamped to your bow or are you attaching it to a tree, shrub or cornstalk if available?
It depends. If I am hunting alone I have the decoy attached with the bow mount accessory. If I have cover then I will us the clamp accessory to attach it to what is available in my surroundings. If I am hunting with a partner, I will have him hold the decoy and will stay close behind him for cover.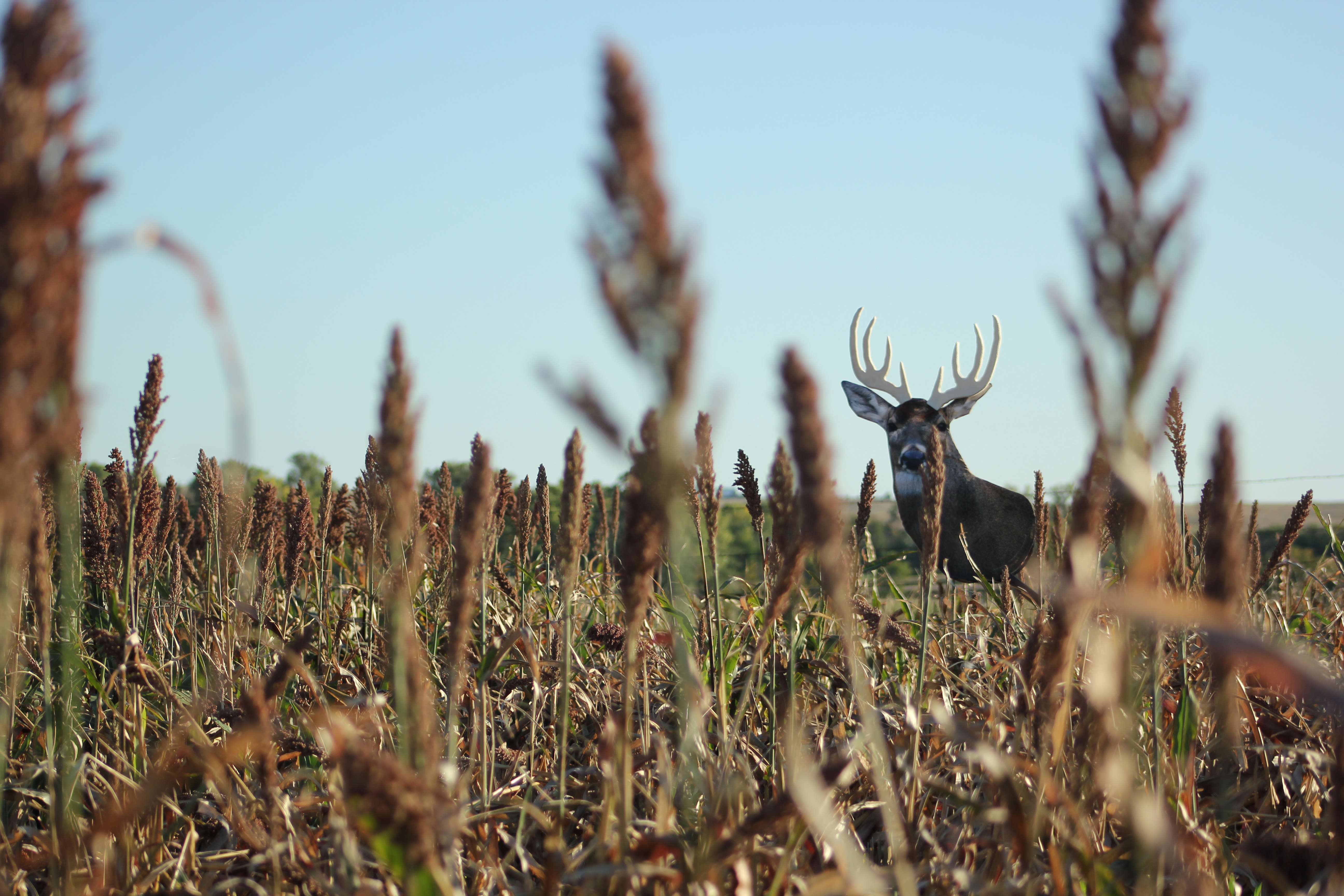 I have a hunch that this will give me more confidence when pursuing a whitetail deer and therefore, will allow me to be more aggressive in my tactics. Do you feel the same way?
I have found that the more aggressive you are the better it works. It definitely builds your confidence with having another tool in the belt. A good friend of mine says it makes him so confident that he sometimes forgets about important details of minimizing movement and concealing noise during the approach. The HUD emboldens you and allows you to be more aggressive in your pursuit.
Tell Me About The Company & Industry
How'd you come up with the idea for Heads Up Decoy? When was that "AHA" moment?
I actually had two "AHA" moments; the first came in 1999 while hunting public land in Kansas. I went as far back as I could and was sitting in an isolated tree in close proximity to a draw. Shortly in to the hunt I spotted a nice buck in the distance and thought to myself "how and the heck is that deer 300 yards away going to come in close enough for me to get a shot?" I envisioned a doe head on a stick that could be stuck into the ground just high enough to stick out above the knee high grass mimicking a bedded doe.
My second moment was during my first elk hunt in 2005. Having no idea what I was getting myself into, I finally realized what elk hunting was really like. At first, the hunting was a grueling task and elk were never to be seen. You might only have a few chances to get a shot during a week long endeavor so I wanted something that would increase my chances. Again, my mind flashed back to a small, portable, light-weight decoy that I could pack in with me to the rugged country where these animals live. There was no way I was going to be hauling around a large, heavy decoy for 10 days straight on a back country elk trip.
What was the first step towards making the first prototype decoy?
After I got back from the hunt made arrangements to visit an elk farm in the area and took 300 photos of cows from inside the pen. Of those 300 pictures, I found a couple that I thought would work for the decoy I envisioned. Then I went through multiple revisions and printed a decoy on cloth material. Later I went on to develop a mule deer doe, antelope, turkey, whitetail and so on using this same process.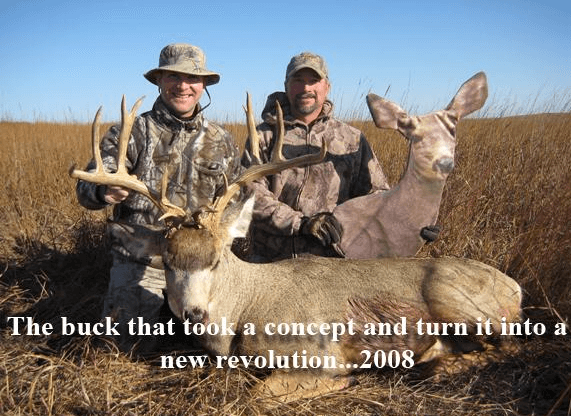 I kept each decoy hand held, portable and lightweight. I then developed accessories such as a screw-in bow mount, a clamp style mount and a padded handle for carrying by hand. In 2009, I garnered good consumer interest at the ATA show. Shortly thereafter, people started getting excited about our products and thats when things really took off.
What material is a Heads Up Decoy made of? Is it quiet and durable enough if I snag it on a tree branch?
They are made of 100% polyester material that combines both durability and reduction in noise. The inside frame is made of bendable, yet durable plastic tubing. The product absolutely has to be quality because when people are spending $70 dollars on my product I want it to last.
How many retail locations do you have throughout the U.S?
Currently we have about 30 locations in throughout the United States, with Scheels being one of our largest customers. We are located in a number archery shops and other sporting goods retailers. I'm working on larger outdoor retailers and bigger box stores for 2016 but smaller archery shops have shown great success because the owners are usually hard-core hunters and know the product very well. Our online sales have increased significantly to where 50% of our business is done through brick and mortar retailers and the other 50% is through our website.
Developing a product and running a business is no easy task. What has been the biggest challenge?
When it comes to manufacturing your own product, you almost need one person to spend their entire time dealing with suppliers. There are on going problems that need to be addressed, delays in shipments, struggles with product development… the list goes on and on. Most of the time suppliers are the ones that keep you going crazy and that has been the biggest hurdle to date.
Some days I wonder why I'm doing this and then there are other days when I'm so thankful to be in the position I'm in. You have to take the good with the bad.
At the end of the day we want customers, not sales. When we have happy customers, that gets us where we want to go. We want people to have good experiences and we back our products if the customer is not 100% happy with their purchase. Everyone has their own twist on products and this is my interpretation of how I think a decoy should be. Its not perfect for everyone.
What's the future look like for heads up decoy 5 years from now? Any new products in development?
Good question. I wish I had a 5 year plan. haha
We recently launched our Moose decoy and it is available for purchase on our website. We are also in the works of a coues deer and a coyote. A caribou is on the radar but I haven't quite nailed down the right posture and scenario to my liking. The mule deer doe can be universal and will work for a lot of deer species such as a black tail, sitka and desert mule deer.
We are still learning every day how to use each decoy and make the product better. Every animal and scenario is completely different so we need to think outside the box with our approach.
Most people think of using a decoy as a 3-D animal which is positioned below a tree stand. Do you see more of a trend towards mobile hunting in the sense of spot and stalk?
Oh yeah! The Whitetail Adrenaline guys have become very popular with this particular style of hunting because it opens peoples eyes to something that is different. You see so many hunting shows nowadays where a guy goes to an outfitter, shoots a big buck and celebrates in front of the camera saying "Unbelievable! What are the chances!?" It's the same thing done over and over again. The HUD creates a new experience that people aren't used to seeing.
My philosophy is, we are either going to kill him or scare him. If we scare him, then we just move on to the next one! Be Mobile – Stay Mobile.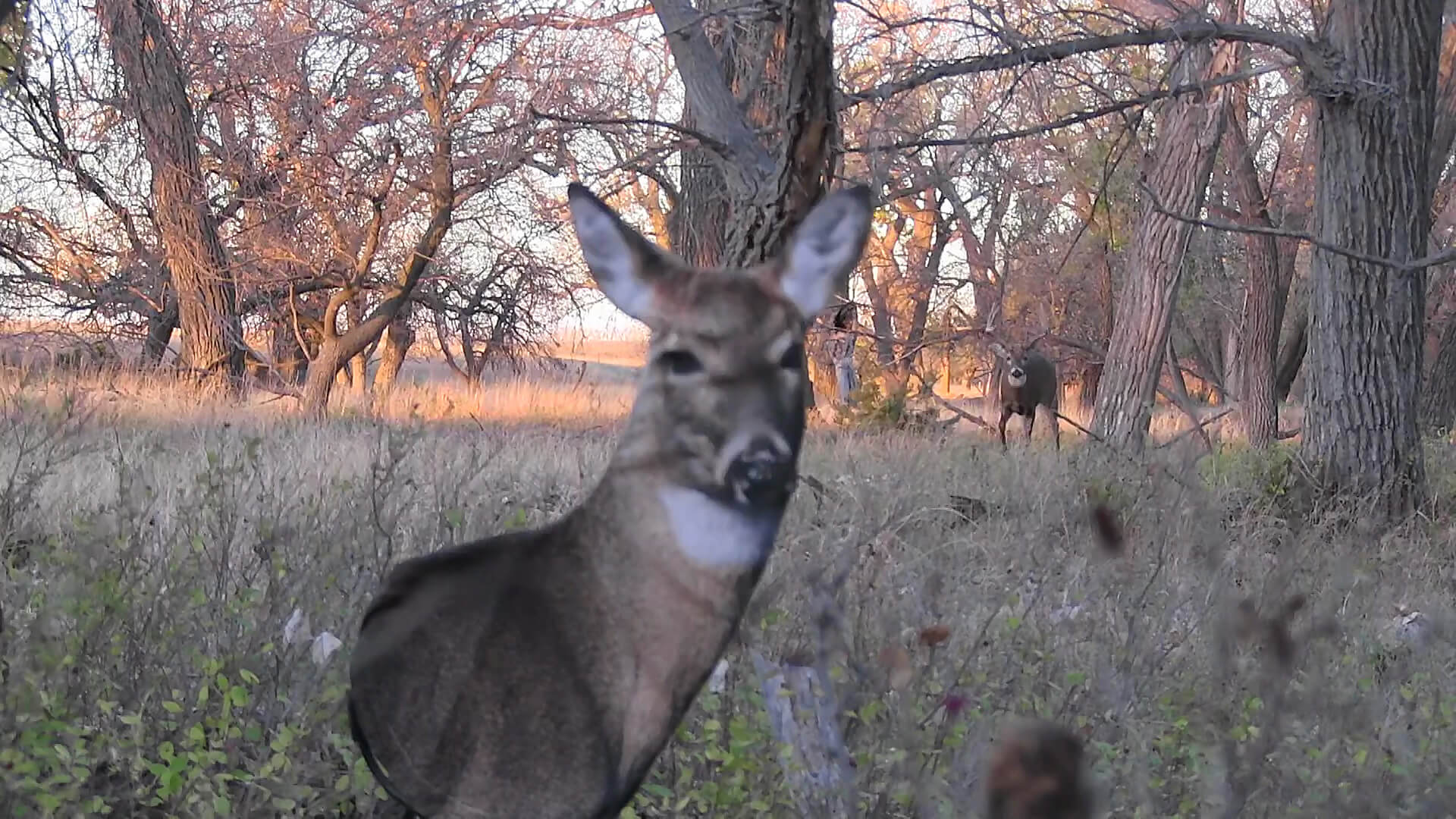 Memorable Encounters and Advice
I watched your video of you shooting that massive 7 pointer in a Kansas milo field. Is that your most memorable and exciting hunt to date?
Oh yeah! That hunt takes the cake because all the odds were against us that particular day. It was calm and we had no cover in the field he was in. We spotted this buck while we were driving down the highway so we stopped at the landowners house and received permission to hunt. Because of lacking cover, we had to walk a quarter mile the other way in a drainage ditch until we got to a point where we could utilize a road sign as blocker between us and him. We then used the terrain to our advantage to move in closer for a shot.
My hunting buddy held the decoy and while we were stalking him, my chin was literally on his back; we had to stay tight. Each step we took was in synchronization with each other. We made it to within 80 yards, deployed the decoy, grunted at him a few times and he came in on a string with the intention to kick our ass! I shot him at a mere 15 yards and he scored close to 140 inches as a massive, palmated 7 pointer.
It's absolutely crazy how it all worked out. We just happened to lay our eyes on him and couldn't believe we were able to close the distance.
Click on the video below to view Garrett's most memorable hunt with a HUD.
What's your favorite animal to hunt with a bow?
Whitetail deer! Living in Kansas, I'm surrounded by whitetail country. I enjoy hunting all animals but what I like most about hunting whitetails is that the season is long and they are located right in my back yard, so to speak. There are so many different animals that I want to pursue. One thing that is for sure, hunting keeps me sane and also drives me insane at the same. haha
I bet elk hunting is a blast with with a cow decoy. Do you have any tips for a rookie elk hunter like me?
Use the wind and throw everything else out the window! We will talk more about elk hunting in a future article!
I feel like I should name my decoy. Haha. Do you have a name for your whitetail decoy?
Some of them are not appropriate (He laughs). I don't have a personal name for any of mine but I sometimes call my buck decoys and turkey decoys B.M.O.C. which stands for Big Man On Campus. I'll sometimes coach them up so they are ready for a fight!
Speaking of fights, have you had any close calls of getting hurt or attacked?
Yes, I've been ran over! It was quite an exhilarating experience. Check out the video!
Where's the best place to learn more about HUD? Website, blog, YouTube etc?
You can find tons of information on our website: www.headsupdecoy.com. There are links to numerous videos, product information and you can also purchase HUD products directly from the website.
What is the most important takeaway message you can leave our readers with?
Heads Up Decoy can provide you with an opportunity when you thought there was never an opportunity in the first place. If you see an animal it will give you a fighting chance to move in on him and close the deal. You're going to have days when it doesn't work very well at all. I'm a realist and I'll be the first to say it doesn't always work but sometimes you will be like, "Wow, I cant believe that just happened!" Every scenario and every deer is different.
Heads Up Decoy also allows you to take advantage of tracts of land that you thought were not suited to be hunted. It could be an open grass field or an old draw that is tough to access undetected. This gives you the confidence to go after that buck in any situation.
Last but not least, Heads Up Decoy makes hunting more fun and exciting. You are going to experience hunting at an entirely new level that you never could have imagined. Good luck this Fall and happy hunting!
Subscribe to Blog via Email
Subscribe to Transition Wild
Subscribe to our newsletter and receive The Colorado Beginner Elk Hunting Guide for FREE!