With the final day of my rut vacation coming closer to an end, the light was fading fast on the 2015 season. If I didn't get it done within the next few days I would only have one more weekend opportunity in Kansas before the busy holiday season arrived. I took the entire week off from work, November 14th – November 21st to hunt with my girlfriend's brother Steve, her Dad Wendell, and my good buddy Dustin who I grew up with in Michigan.
I had been hunting hard all week and had yet to get a single shot opportunity on any deer, let alone a mature buck! Dustin and Steve tagged out earlier in the week and I'll feature their stories in a later article. I had been seeing good bucks at the beginning of the week but they were all out of range for a shot. The 12 hour, all day sits with little deer movement over the past few days started to wear on my morale and hopes of putting my tag on a mature Kansas buck.
On the second to last day, I decided to pull the plug on an area I was hunting and move to a new area in closer proximity to where Steve and Wendell had been hunting. They were seeing a lot of does running around and a few good bucks so they told me to come try out this spot. At this stage of the hunt I didn't have much to lose!
Setting Up For The Evening Hunt
Dustin and I decided to hunt together on Thursday evening so we brought two tree stands with the anticipation of hanging a double set. Upon entering this new area, it was really tough to find the right tree because of the thicker brush and the lack of suitable trees to hang a stand. We ended up walking around for over an hour before finally finding one that had some shooting lanes and was large enough to hold the both of us.
By the time we had all of our gear at the base of the tree, we were exhausted and drenched in sweat from the 60-degree temps and sunny skies. Since we had trounced around the area in every direction making all sorts of noise, neither of us had high hopes for the evening hunt.
After finally getting settled into the stand about 3:30pm, the winds died down and we enjoyed the view from 25 feet up. To the West was a river that ran North / South and to the East was a CRP field. We were positioned in a 100-yard wide strip of thick woods that ran between the field and the river. Without having stepped foot in this area before, we didn't know what to expect for deer movement but it looked promising because of the abundance of rubs and scrapes in the immediate area.
As the light faded we had 2 does come behind us at 50 yards but did not make their way in for a shot. They ended up getting down-wind and slowly walked off back to where they came from. Even though we didn't see much movement, it was great to be in the same stand with my good hunting partner again!
The Morning Hunt – November 20th
My alarm rings at 5:00am and I dread crawling out of the sheets but I know I have to keep pushing. Dustin decided to sleep in so I went out solo for the morning hunt with the anticipation of sitting the entire day. I parked the truck and began the walk to my stand; bumping a doe in the field but made it the rest of the way unscathed. I finally settled in about 20 minutes before first light and prepared myself for, hopefully, an exciting and successful day.
Shortly after first light, I catch movement to my left and notice two does moving slowly through the understory. I stand up to position myself in hopes that they come close enough for a shot but they slowly graze for a few minutes and walk directly behind my stand at 40 yards where I am not able to shoot. After standing directly down-wind for 5 minutes they push off to the North without offering up a good shot opportunity. Once again, I was bummed!
10 minutes goes by and I catch more movement to my left but this time, it's within 30 yards. At first glance, I thought it was a lone doe but as it came closer I was able to make out two small spikes on the top of his head. He closes the gap to 10 yards, hits a scrape and walks off in the same direction the two does traveled just minutes prior. If only he was a little bit bigger!
The Moment Of Truth
At approximately 7:25am, an hour after first light, I see a bigger bodied deer moving out in front of me at 60 yards but could not yet determine what it was. A few moments later he clears the thick brush and I immediately determine he's a shooter and my heart begins to race!
He moves his way in closer, alone and oddly enough, with the wind at his back as he funneled off to my right at 70 yards. Knowing he was too far for a shot and would likely move past me out of range, I reached for my Quaker Boy Bleat-In-Heat and let out a nice long doe bleat. It immediately caught his attention and fired him up enough to work a scrape that was close by. After he finished working the scrape he started walking my way, but once again, I had no shot opportunities as he paralleled my tree at 35 yards!
I let him move past me which gave me some time to reach for my Quaker Boy Brawler Buck Call and I let out a soft, quick buck grunt. In an instant he wheeled right around and made a bee-line right for my tree; quickly closing the distance to 10 yards! I don't know if he picked up my human scent from the night before or if it was because he didn't see the buck that should be standing in front of him but he got spooky and made a quick, 180 degree turn directly away from me. I used this to my advantage, immediately drew my bow and began looking for an opening to get a shot off. After holding for 10 seconds he made his way into an opening and I stopped him with a mouth grunt at 20 yards broadside.
I settled my pin on his chest, let off the shot and watched as my arrow flew directly into his chest cavity! The shot placement was absolutely perfect and upon initial impact, blood was pouring out of the entry hole so I knew I had hit him hard. I watched him run off, blood pumping from his heart and he started to do the "dizzy dance" as his run slowed to a walk. He stumbled out of sight behind a large cedar tree and moments later I heard him crash. In an instant, the woods were silent again.
At this point I completely lost it and was celebrating beyond belief; shaking uncontrollably in my tree stand. I could not believe it came together on the last day of my hunt and I was ecstatic to finally have a beautiful, mature Kansas buck on the ground!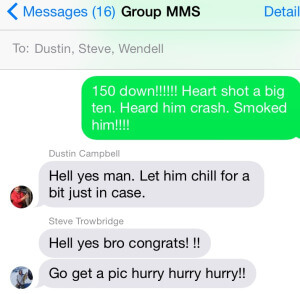 I texted the guys and waited for Dustin to arrive so that we could track him together and allowing extra minutes of caution for the buck to fully expire. 20 minutes later Dustin shows up and we follow a blood coated trail to my buck that looks like someone dumped a can of red paint on the ground. I can't say enough good things about Rage Broad Heads , they sure make easy work out of tracking a whitetail deer. I was using a Rage Hpyodermic and they are absolutely devastating, leaving a blood trail that you can run down if you wanted to.
It Can All Change in a Matter of Seconds
Bowhunting is a constant game of "cat and mouse" and the majority of time, I'm the cat who can't catch the mouse. This year was filled with many highs and lows, multiple close-call encounters with mature bucks and one successful hunt to end my 2015 season in Kansas. You can go from zero to hero in a matter of seconds as long as you never give up and put in the time.
I'd like to thank my good friend, Dustin Campbell for telling me to keep grinding and for helping me with the long drag to the truck. Also, thank you for taking all of the great pictures; you certainly know how to capture my good side! I'd like to give big thanks to Wendell Trowbridge and Steve Trowbridge for pointing me in the right direction and putting me into a good area! I couldn't have made it happen without you guys so thanks again!
These are the moments I live for and will cherish forever. I love deer hunting 🙂
-Adam
Subscribe to Blog via Email
Subscribe to Transition Wild
Subscribe to our newsletter and receive The Colorado Beginner Elk Hunting Guide for FREE!