Hunting a brand new whitetail property can be a challenge for a number of reasons but my biggest obstacle for the 2015 season would be finding the time to scout while living six hours away. During a late July recon mission, I was fortunate enough to acquire hunting rights to approximately 7,000 acres of private land in Western Kansas.
Given that I didn't have the luxury of scouting every weekend, I needed an extra edge in conjunction with running trail cameras. At this point in time, I had no information related to deer densities and if there were even deer that I would be interested in pursuing on the recently acquired properties. Long story short, I was looking to take a quick inventory on any big bucks roaming the farms I had access to hunt. To help me do this I implemented the use of Big Tine Fortified Deer Blend!
A Needle In A Haystack
Now before you jump to conclusions about the 7,000 acres of hunting land, let me paint you a better picture by stating that the acreage is not continuous and only about 1,000 acres is what I would deem "hunt-able". Out of that 1,000 acres, there are less than 10 acres of trees, the landscape is comprised mainly of open grass, small draws and has a total of two crop fields. Do you get the picture? If not, I posted a snapshot below for your viewing pleasure.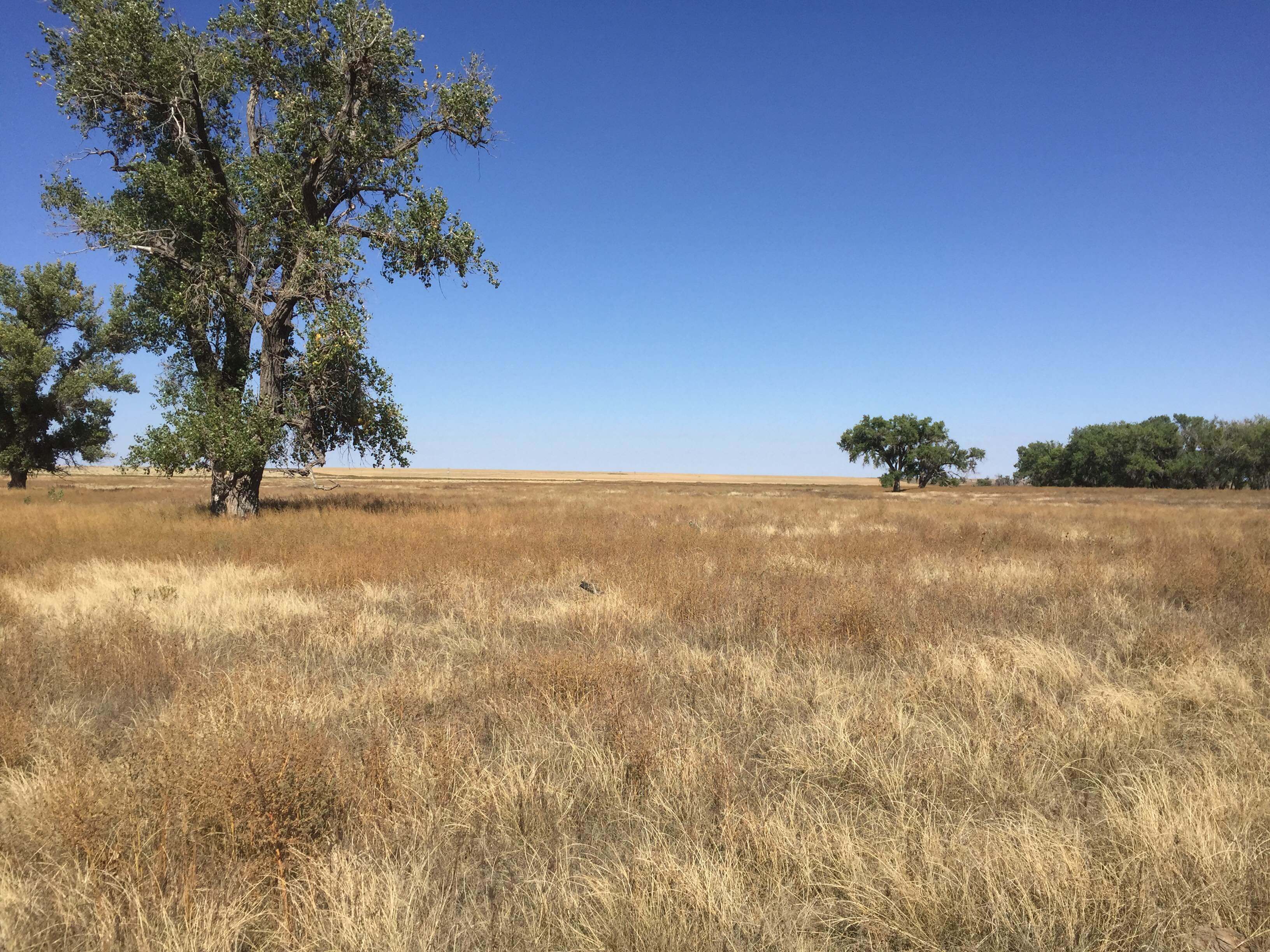 With all due respect, I'm not hunting Iowa, people! This is Western Kansas, where the only trees you will find are located in and around dried up river bottoms or in the immediate areas surrounding homesteads. The wide open prairie makes the deer extremely tough to pattern so just hanging cameras in a "hopeful" location wasn't going to yield the best results. Big Tine was the answer to my early season scouting success!
Yielding Results
Upon my first use and within hours of putting out Big Tine's Cherry Rush Last Call, I had a mature buck in front of the camera during daylight. Below are a few trail camera pictures showing me putting out the mixture and shortly after, catching a mature buck coming out of the bedding area from behind to investigate. Although he is not a giant, he is still mature and I was blown away at how quickly Big Tine was able to bring him in front of the camera. See my trail cam pictures below where it shows the dates and times only hours apart on the first day I put out Big Tine.
One of the more successful camera locations was where I put out the Big Tine 30-06 formula; a perfect blend of minerals, corn, sunflower seeds, and cherry aroma to spark their curiosity! Within 2 days I had pictures of 5 different bucks ranging in size from 150" – 170". Right then and there I had confirmed two things; Big Tine really does work and I had hit the deer hunting property lottery! See below for a sampling of trail cam pictures of the giants I was able to capture on camera. To view the full card pull, check out the Transition Wild Facebook Page.
All Season – All Purpose
My original use of Big Tine Deer Feed was used as a tool to help with my early season scouting efforts but I will also utilize Big Tine for my Spring / Summer mineral sites. Because of the desolate environment that Western Kanas deer are subject to, they do not receive maximum nutrition through their everyday diet. With the help of Whitetail Institute's Imperial 30-06™ Mineral/Vitamin Supplement, Big Tine is the perfect supplement for enhanced antler growth and an overall healthier deer herd.
Although I can't credit Big Tine entirely for a successful deer season, it did play a big part in my scouting efforts which was the first step towards completing my end goal of killing a mature whitetail in 2015. After many failed attempts and close encounters, the cards were finally dealt in my favor and I was able to arrow my biggest whitetail to date on November 20th. To read more about that memorable hunt, click HERE.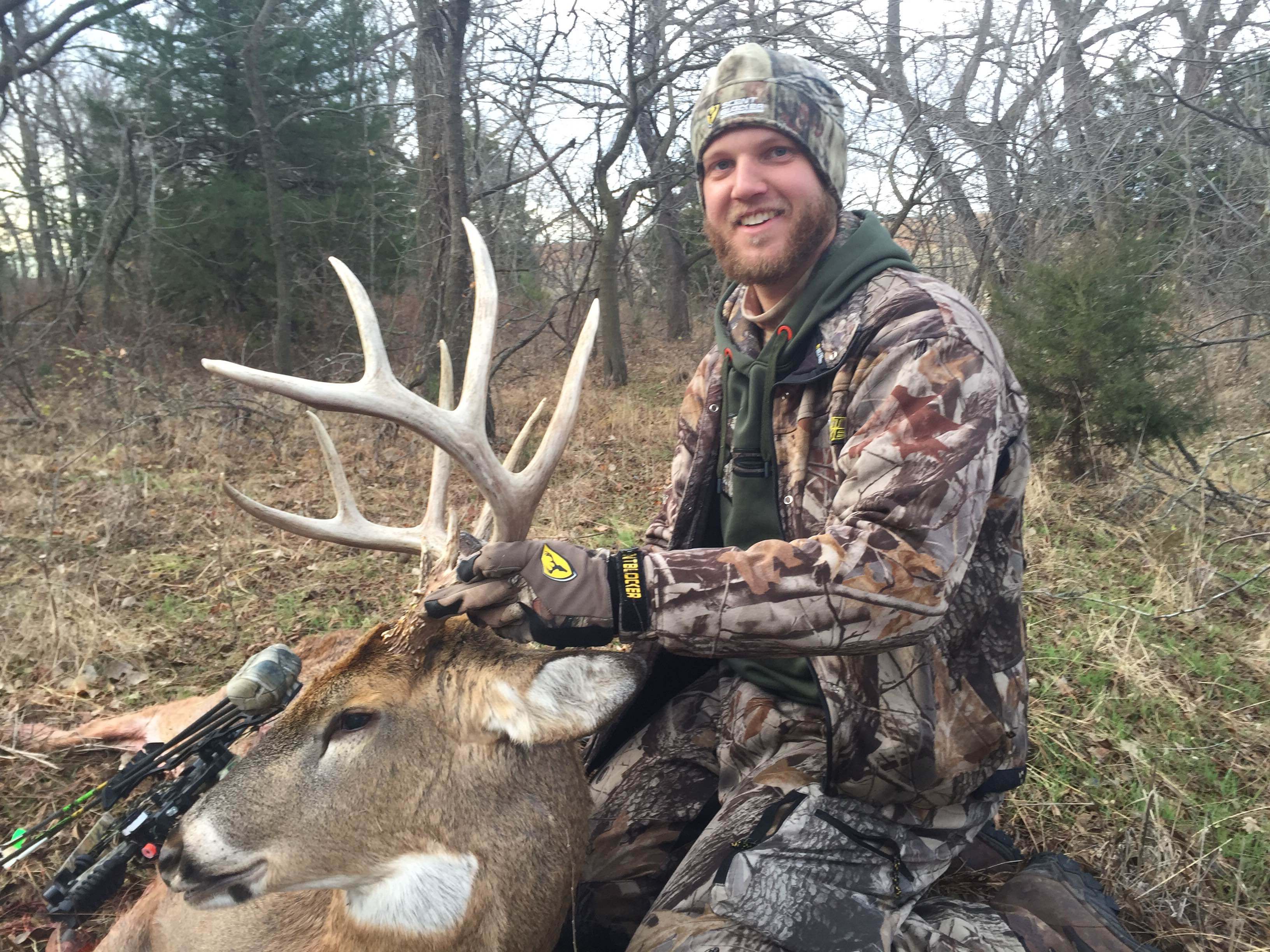 Don't just take my word for it. Stop by your local retailer today and pick up a few bags of Big Tine and start experimenting on your own property. They have a wide range of products in addition to deer feed including; food plot seed, cover scents and mineral blocks. Regardless of what you use, I think you will be very pleased with the results!
To find out more information about Big Tine, please visit their website at: www.bigtine.com.
-Adam
Subscribe to Blog via Email
Subscribe to Transition Wild
Subscribe to our newsletter and receive The Colorado Beginner Elk Hunting Guide for FREE!